MARKET SLEUTH
Publication on Business and Investment Opportunities in Canada
Market Sleuth profiles innovative industry segments that represent business and investment opportunities in Canada. This monthly publication identifies and outlines niche markets and their business and economic rationale and highlights high-impact companies, thereby giving you an edge when designing and implementing your development strategies.
Approach
E&B DATA detects "weak signals" related to business growth. Repeated weak signals suggest a genuine but still "under the radar" activity. Our analytical approach, based on microdata mining and the expert assessment by our team of analysts, reveals new trends before they show up in statistics or the media. This strategic information gives you an advantage over the competition.
The analysis spans a ten-years period — long enough to include much more than the latest "flavour of the month" and other short-lived trends. Our research targets the reasons for a given sector's performance, which would be next to impossible to identify without a fresh look at new data. The approach is not based on official statistics (e.g., Statistics Canada) and instead looks at more recent data, as well as sectors that are not yet included in standard classifications (e.g., NAICS).
Advantages over Similar Studies
Market Sleuth's focus on Canada's current market outlook sets it apart from generic international studies. It is the only regular publication to identify business opportunities that are actually feasible in Canada. Competing reports identify major global industrial and technological trends but provide no information on whether they are real opportunities in Canada, because they rarely are. Market Sleuth is not a work of futurology, but rather identifies new investment opportunities currently emerging in Canada.
Contents
A series of tables and other analyses concisely and concretely illustrates the momentum in niche markets:
Growing SMEs
Large production units
Sectors
Niches generally fall into the following sectors:
Biomedical Technology
Construction Technology
Transportation Technology
Energy Technology
Environmental Technology
Manufacturing Technology
Agri-Food Products
Specialty Products
_______________________________________________________
Released Issues
Title
Publication
Latest publications under embargo for our current subscribers.
Treatment of Mine Tailings
February 2021
Electric Grid Equipment
January 2021
Digital Mining Equipment
December 2020
Body Care Products
November 2020
Non-Mining Metal Extraction
October 2020
Plastic Recycling
September 2020
Cannabis Production and Processing 2.0
August 2020
Industrial Local Symbiosis
July 2020
Diagnostic and Therapeutic Products
June 2020
Hospital Equipment
May 2020
Non-Durable Hospital Supplies
April 2020
Hydrogen and Fuel Cells Production
March 2020
Solar Energy Production
February 2020
Cellulosic Pellets
January 2020
Biomethanization
December 2019
Ferrous Sector
November 2019
Carbon Capture
October 2019
Video Games
September 2019
Enriched Functional Foods
August 2019
3D Manufacturing
July 2019
Photonics
June 2019
Aquaculture
May 2019
Processed Milk Products
April 2019
Advanced Doors and Windows
March 2019
Personal Protective Equipment for Workers
February 2019
Transformation of Northern Berries
January 2019
Winter Mechanical Equipment
December 2018
Animal Reproduction and Health
November 2018
Machine Workshops
October 2018
Nanotechnology
September 2018
Sensors
August 2018
Agricultural Machinery
July 2018
Wines and Spirits
June 2018
Private Maritime Terminals for Bulk Solids
May 2018
Advanced Distribution Centers
April 2018
Industrial Robotics
March 2018
Material Recovery Facilities
February 2018
Material Testing Laboratories
January 2018
Metal Piping
December 2017
Truck Trailers
November 2017
Molds and Dies Manufacturing
October 2017
Medical Imaging
September 2017
Pulses and Oilseeds Processing
August 2017
Cannabis Production and Processing
July 2017
Biomass Cogeneration
June 2017
Strategic Minerals Processing
May 2017
Structural Engineered Wood
April 2017
Data Storage Centers
March 2017
Modular and Prefabricated Buildings
February 2017
Heating, Ventilation, Air Conditioning and Refrigeration Systems
January 2017
Fine Chemicals of Plant Origin
December 2016
Biofuels
November 2016
Energy Storage
October 2016
Controlled-Environment Agriculture
September 2016
Intelligent Transportation Systems
August 2016
Industrial Surface Treatment
August 2016
_______________________________________________________
Custom Edition
Got a particular sector in mind?

Contact us to get your own custom copy of Market Sleuth. Prices vary based on exclusivity and delivery requirements.
_____________
Subscription
To subscribe, simply fill out the form below and send it back to us.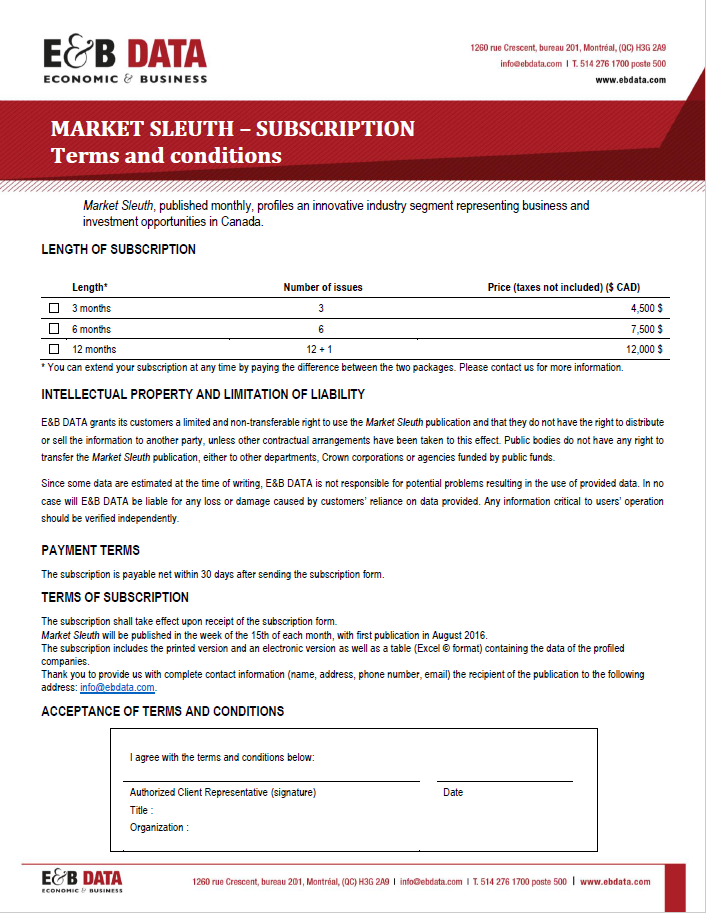 Your subscription includes a print version (two pages, 11"x17") and a printable electronic version (four pages, 8½"x11"), as well as a chart (in Excel format) of featured projects and companies.
_____________
Subscription rates
Length*
Number of issues
Price (taxes not included)
3 months
3
$4,500 CAD
6 months
6
$7,500 CAD
12 months
9 + Year Review
$9,900 CAD
12 months
12 + Year Review
$12,000 CAD
* You can extend your subscription at any time by paying the difference between the two packages. Please contact us for more information.